Speaker Details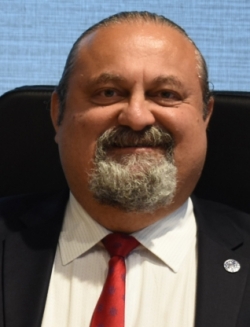 Ferhat Acuner
Ferhat holds a bachelor's degree in naval architecture and marine engineering from Istanbul Technical University. He started his career in 1987 and has 33 years of engineering experience. He has been general manager of Navtek Naval Technologies since 1999. Before joining Navtek Naval Technologies, he served in the fields of management and project development at distinguished shipbuilding, naval design, ship operations and ship repair companies. He has also held senior positions on unique project developments, including Powership from Karadeniz Holding AŞ – a barge/ship-mounted fully integrated floating power plant. Throughout many years of experience and knowledge, Ferhat has developed innovative ideas and technologies for a greener future.
---
Presentation
Zeetug – the world's first and proven rechargeable and all-electric tugboat
The presentation touches on the story of the ZEETUG (Zero Emission Electric Tugboat) design. Detailed information is given on research and development steps, design and construction process, the key features of the ZEETUG and improvements made on new series. Retrofit and new building options are evaluated technically and solutions are offered for investors. The challenges and opportunities of hydrogen as an alternative fuel are discussed.