Speaker Details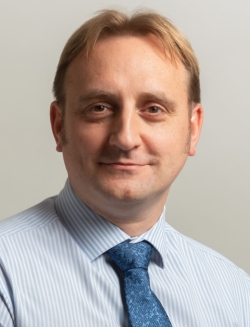 Paul Eaton
Paul is responsible for the engineering delivery of GE Power Conversion's new-build and in-service naval projects. During his career with GE he has worked primarily within the power and propulsion systems area of the naval marine business, covering projects from their initial design stages through to commissioning and acceptance trials and into service. He has held the roles of GE Power Conversion's Type 45 and QEC aircraft carrier engineering manager since 2003 and 2007 respectively.
---
Presentation
Britain's biggest warship – HMS Queen Elizabeth aircraft carrier utilizes integrated full electric propulsion
HMS Queen Elizabeth aircraft carrier (QNLZ) – procured by the UK Ministry of Defence for the Royal Navy – is the first aircraft carrier in the world to utilize an integrated full electric power and propulsion system (IFEP). This presented a step change in size and complexity. This presentation will discuss the merits of IFEP, QNLZ large equipment descriptions, and methods and processes adopted from early design phases, through testing and trials undertaken to ensure all equipment is set to work in a safe and efficient manner to gain acceptance and deliver the required capability to the Royal Navy.